Treat your clients a traditional yet unique feast with a succulent hog roast, freshly cooked on the spit. Our spit roast kit is a real show stopper and a brilliant addition to any events catering set-up. There's something truly captivating about watching a full pig slowly turn and sizzle beneath your very eyes – and the smells are unbeatable! Our spit pole uses a 240 volt motor and can rotate a whole hog or lamb, bringing real drama to dinner time.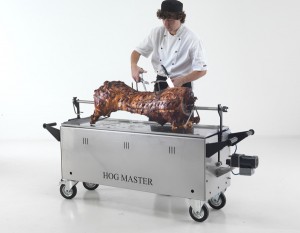 This accessory can take the weight of 80kgs at a time, holding a huge piece of meat. The meat can be viewed through the toughened glass viewing panel, ensuring easy monitoring for you and a sneak peek for your guests. Slide a carving tray under your meat is straightforward and provides a handy hot plate as you serve up. The hog is raised into the serving position using the two support bars.
Our spit roast kit is one of our best-selling pieces when our customers buy a hog roast machine. Create an element of theatre and excitement to the next event you cater.
Get in touch if you wish to know anything else about this or any other of our upper level kits.